Dolphin and whale spotting in Tenerife
The coast of Tenerife is a favoured place to observe cetaceans in the wild. In the refreshing waters of the island you can find colonies of pilot whales and dolphins that live here all year round. Their friendliness and presence so close to the shore has put Tenerife into first place for the number of people who come to spot cetaceans in the wild.
Up to 21 different species live in our waters, from the gigantic blue whale to the formidable orca whale. You cannot miss the opportunity to enjoy a day on the welcoming island to get to know the marine inhabitants, given that few places on the planet offer this wide biodiversity at such a small distance from the hotel.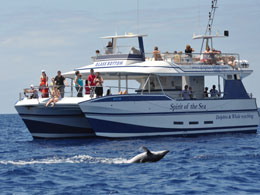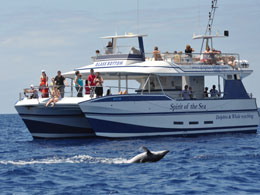 Delfines y ballenas en Gran Canaria
Disfrute de un paseo en catamarán mientras observa delfines y ballenas
From 0,00€
Languages:


02:30 Times Approx.

Mogán